WV-S8530N Panasonic IP Camera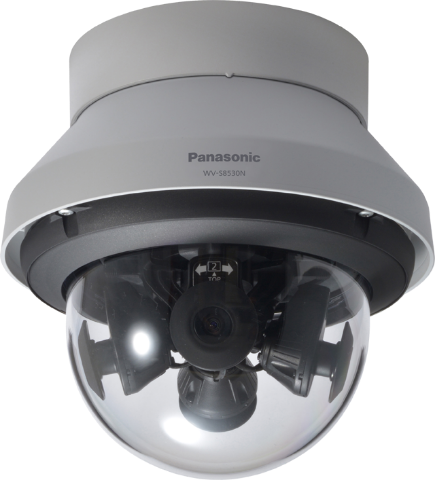 4 x FHD(8MP) Multi-Sensor Network Camera; 1600×1200 / 1920×1080 30fps; Wide range tilt angle adjustment mechanism; Four repositionable lenses enable monitoring at minimizing blind spots; Usability – Easy setting
Click to add this item to cart.
Product Description
What is Multi-Sensor Camera?
Houses multiple image sensors and lenses in a single enclosure to cover a wide angle of view.
There are various kinds multi-sensor camera.
Industries
Possible to monitor the space spreading by direction with high image quality with one unit.
> Intersection
> Station, Airport (Concourse, Runway)
> Building periphery, Park, Plaza
> Parking lot

*The above is the adjustable range of a single camera. The adjustable range of each camera varies according to the positional relationship with other cameras.
Wide range tilt angle adjustment mechanism
Four repositionable lenses enables to monitoring at minimize blind spots
– 360-degree mode
One multi-sensor camera covers the whole park area with high resolution images.
– 270-degree + right below mode
One multi-sensor camera covers the whole intersection area including right below of the camera to see all of incidents.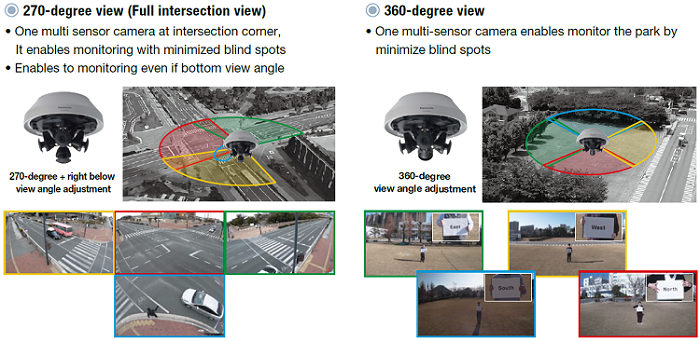 Usability – Easy setting
Installation time can be reduced by confirming live image and adjusting viewing angle with smartphone or tablet device via Wi-Fi connection.

Select one of "360 deg. View" or "270 deg. + Right below view", check the live images of 4 cameras at the same time, and adjust the angle of the camera.
Select the live image of one camera and adjust the zoom and focus.
Learn more about this: https://security.panasonic.com/products_technology/products/wv-s8530n/