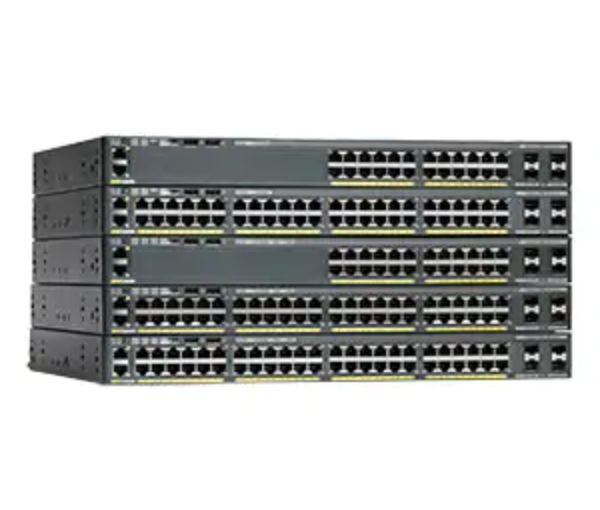 Get the enterprise-class features you want at a great price. Our Catalyst 2960-X Series are stackable Gigabit Ethernet Layer 2 and Layer 3 access switches. They're easy to deploy, manage, and troubleshoot. They offer automated software installation and port configuration. And they help you cut costs with energy-efficient features.
Click to add this item to cart.
Product Description
Cisco Catalyst 2960-X and 2960-XR Series Switches feature:
24 or 48 Gigabit Ethernet ports with line-rate forwarding performance
4 fixed 1 Gigabit Ethernet Small Form-Factor Pluggable (SFP) uplinks or 2 fixed 10 Gigabit Ethernet SFP+ uplinks
PoE+ support with a power budget of up to 740W and Perpetual PoE
Device management with web UI, over-the-air access via Bluetooth, Command-Line Interface (CLI), Simple Network Management Protocol (SNMP), and RJ-45 or USB console access
Network management with Cisco Prime®, Cisco Network Plug and Play, and Cisco DNA Center
Stacking with FlexStack-Plus and FlexStack-Extended
Layer 3 features with routed access (Open Shortest Path First [OSPF]), static routing, and Routing Information Protocol (RIP)
Visibility with Domain Name System as an Authoritative Source (DNS-AS) and Full (Flexible) NetFlow
Security with 802.1X, Serial Port Analyzer (SPAN) and Bridge Protocol Data Unit (BPDU) Guard
Reliability with higher Mean Time Between Failures (MTBF) and Enhanced Limited Lifetime Warranty
(E-LLW)
Resiliency with optional dual field-replaceable power supplies2
Power Supply
An external redundant power supply option is supported on the Cisco Catalyst 2960-X Series Switches. These switches come with one fixed power supply and an option for an external redundant power supply (Cisco Redundant Power System [RPS] 2300).
Dual redundant power supplies are supported on the Cisco Catalyst 2960-XR Series Switches. These switches ship with one power supply by default. The second power supply can be purchased at the time of ordering the switch or as a spare. These power supplies have built-in fans to provide cooling.